Custom Crafted Wooden Furniture
The luxury of timeless style and honest craftsmanship for your bedroom, dining room, living room and home office awaits you.
Whether you're looking for traditional, modern, Shaker, craftsman, arts & crafts, transitional or contemporary styles- we have the perfect solid wood furniture for your unique home. Each piece is made to order, just for you. Shop online or give us a call. We are a small, family owned company always delighted to help you.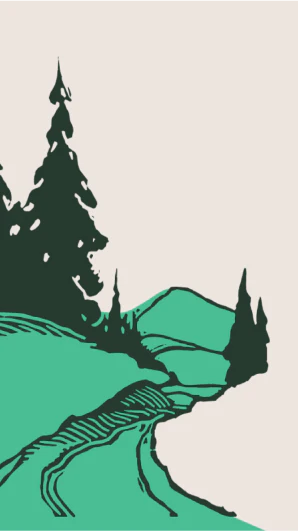 Sustainably Sourced North-American Hardwoods
All of our
solid wood furniture
is built with sustainably harvested, North American hardwoods like
cherry
,
walnut
,
maple
and
oak
. These woods come from trees that grow natively in our local forests. This means less resources are expended transporting the wood from forests to saw mills and workshops.
In addition to reducing carbon emissions that occur from shipping materials long distances and internationally, sourcing wood from North American forests ensures that we're not contributing to deforestation, because forests in the US and Canada have strong environmental protections and are actually increasing in size and density.
Order Wood Samples


Natural Wood Colors or Stains?
Vermont has become the last bastion of genuine authenticity for real solid hardwood furniture that's actually made in America.
While many furniture stores advertise "cherry furniture" or "oak furniture" often it's not actually cherry or oak wood you're buying. It's typically a cheaper, imported wood that's stained to look like cherry or oak. Here you will find the real thing. But we understand that many times, customers are trying to match the color of a new furniture piece to something they already have. Or you may want to achieve a certain style or design that requires a dark stain or a whitewash. So we have many choices for stains and you may even send us your own stain. Here's a summary of our wood colors and the stains we typically apply:
Real, natural cherry wood has a rich reddish tone that darkens naturally with age and sunlight. Our cherry wood stains include autumn cherry, mahogany cherry, cognac cherry, saddle cherry, smoke cherry, walnut, ebony and country russet.
Maple wood has a light, creamy color. Go even lighter with an ivory finish on maple. Go darker with the driftwood stain on maple which creates a slate color. Espresso and ebony stains can also be applied to maple wood for even darker tones.
Walnut is our darkest wood. It's a beautiful, rich chocolatey brown. If you're investing in a walnut table, we don't typically recommend a stain. Why? Because walnut is becoming rather rare and it's priced higher than cherry, maple and oak. No sense paying extra for a rare wood grain if you're going to cover it up with a stain.
Oak is a traditional wood with strong grain patterns and a medium color tone. We offer a light whitewashed ivory tone on oak pieces as well as a slate colored driftwood, and the ever-popular medium, autumn and classic oak stains.
Check the "Option Details" tab on any product page to see which stains are available for your piece.
Vermont Furniture Makers
The Green Mountain State has a reputation for the best wooden handcrafted furniture anywhere in America.
Vermont is home to some 2000 small custom furniture makers located throughout our state as well as several mid-size, high end furniture manufacturers. Vermont furniture makers are known for their fine craftsmanship and use of organic solid wood and clear natural finishes. With so many American furniture brands now making their furniture overseas, Vermont has quietly become the Real Wood Furniture Capital of the USA. We are proud to partner with Vermont furniture companies that have continued to operate successfully in the USA, remaining true to their communities, their employees and their quality even during the hardest of economic times. Our partners include Maple Corner Woodworks, Lyndon Furniture, Copeland Furniture, Vermont Furniture Designs and a few specialized custom artisan studios.
What's Your Style?
Vermont has always been known for it's traditional Shaker style furniture, crafted in real solid cherry wood. But our Yankee craftsman have deep expertise in creating many additional styles of furniture including: Mission, Craftsman, Modern, Mid Century Modern MCM, American Country, Colonial and Contemporary.
View Shaker Style Furniture
Custom Furniture Options
Each table, chair, bed and cabinet is made to order just for you so customization is easy and affordable. Just let us know if you need to make your dining table a little longer or taller. Send us any special hardware you'd like installed for drawer pulls or door handles on your chest or buffet. Have your own upholstery fabric you'd like applied to your new dining chairs? We'll do that for no charge. We are here to help you make your home the special sanctuary you've been longing for. Don't hesitate to ask for customizations so you get exactly what you want.
Eco Friendly Furniture That's Made in the USA
You are someone who still values honest, quality craftsmanship and the use of sustainably sourced materials. We greatly appreciate your consideration of Vermont Woods Studios for your investment.
Whether it's bedroom, dining, home office, entertainment or living room furniture we promise you that with proper care, it will last a lifetime. Your furniture is made with eco friendly wood, sourced close to home and it's something you can proudly hand down to your children and grandchildren. Please know that the benefits of buying USA made furniture go far beyond your own home and into the homes of American craftsmen. Your decision to buy American made furniture means that local Vermont communities have sustainable economies and the tradition of high quality American craftsmanship lives on.
What's Different About This Furniture Store?
All our furniture and home decor is handcrafted in Vermont, supporting the American economy and sustainable business practices
We strive to offer you the best value on the highest quality wood furniture you'll find in our price range
We have excellent customer testimonials both here on our site and on third-party review sites like Yelp, Sitejabber, Facebook and Google+
We offer a lifetime guarantee on all our furniture, plus free white-glove shipping on orders over $4,000
As wood furniture makers, we're passionate about forest conservation. Your home office furniture will be made from sustainably sourced local hardwoods and we'll plant trees in the Amazon rainforest to thank you for your order. So far we've planted over 195,000 trees to restore rainforests where our competitors still choose to remove wood illegally. Your purchase also helps replenish the forest where monarch butterflies overwinter in Mexico
Our customers are helping to save forest-dwelling species from extinction. Now how many other furniture companies can say that?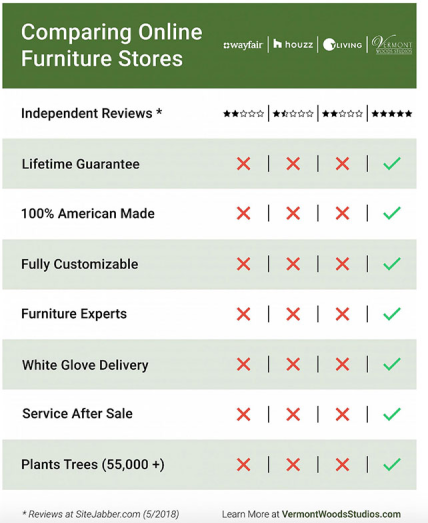 +

Years in Business

+

Trees Planted

+

Happy Customers