Natural Hardwood Desks
We're passionate about forest conservation and we source all our timber from sustainably managed forests right here in the USA. Much of our maple and oak woods come from Vermont's own Green Mountain Forest. Our cherry and walnut woods are sustainably harvested from forests in the midwest and mid-Atlantic regions, where both species grow in abundance. For centuries, Vermont made furniture has been a symbol of high-quality craftsmanship and long-lasting value. Our craftspeople are building pieces that will serve your family long after the craftsman's gone. We call that a legacy.
We know how meaningful your handcrafted home office furniture will be as you sit down to build YOUR legacy. We'll make sure it arrives to your home office in perfect order. Your satisfaction means everything to us. Our sales and design consultants are sitting at their own beautifully crafted desks ready to help you get exactly what you're looking for, please call us.
Styles and Designs
What's the difference between an executive desk and a writing desk?
We use the term "executive desk" to refer to an enclosed desk with deep drawer storage on both sides. The deep drawer storage gives you a place to file all your important documents. Executive desks are designed to maximize storage and workspace, allowing for better organization and increased productivity.
Writing desks are sleeker and simpler. They usually lack the concealing apron that you see on executive desks. Writing desks look almost like dining tables, and could be used as inspiration for such. They're great for the bedroom or living room as well. These desks are meant to bring out your inner creative. Whether you're trying to produce or relax, you don't need to be distracted by all the other noise in your life. Our modern, minimalist designs are engineered to help keep you in the zone.
You'll notice several of our best-selling desks are shaker style desks. Shaker furniture is easily recognized by the tapered profile of the legs and the sleek, simple designs. We also have more modern designs like the Copeland Kidney-Shaped Desk & Catalina Desk as well as secretary desks, campaign desks and library desks. Narrow your selection by shopping for Shaker Style Desks or Desks by Copeland Furniture.
Customize Your Solid Wood Desk Online
You can easily customize your desk online using our drop-down menus. Choose any of the available hardwoods. Pick a set of dimensions. Make your desk small, medium or large to fit into your space. Even customize your drawer pulls. For more involved customizations, please call us.  We modify and customize furniture every day.  We're the experts. Your investment is safe here.
Many of our customers call us because our designs inspired one of their own. They want a different arrangement of drawers for storage. Or maybe they just need to tweak the dimensions a few inches. We want you to get the perfect desk for your home office, den or corner of the kitchen. We'll work with you to make sure you get exactly what you want.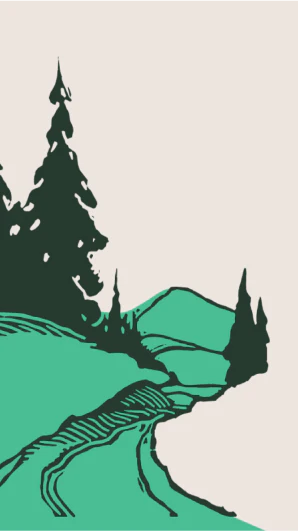 Sustainably Sourced North-American Hardwoods


All of our
solid wood furniture
is built with sustainably harvested, North American hardwoods like
cherry
,
walnut
,
maple
and
oak
. These woods come from trees that grow natively in our local forests. This means less resources are expended transporting the wood from forests to saw mills and workshops.
In addition to reducing carbon emissions that occur from shipping materials long distances and internationally, sourcing wood from North American forests ensures that we're not contributing to deforestation, because forests in the US and Canada have strong environmental protections and are actually increasing in size and density.
Order Wood Samples


Handcrafted in the USA
All of our sustainable, natural wood furniture is proudly made in the USA by talented and passionate woodworkers. Buying American made furniture is better for your home, better for the planet, and better for the economy.
Made in USA
Custom Built to Last a Lifetime
Our sustainable furniture is designed and built to last a lifetime using high quality materials and best-in-class construction. No particle board, cheap veneers, or formaldehyde. Just real solid wood, time-tested joinery techniques, and non-toxic wood finishes.
Customize
+

Years in Business

+

Trees Planted

+

Happy Customers