Art Deco 101: Everything You Need to Know
Art Deco furniture is characterized by its muted colors, shiny metal accents, eccentric shapes, and polished finishes. This style originated in France in the 1920s and then spread to the US and Europe in the early 1930s. Art Deco style can still be found integrated into contemporary furniture and design today, often as an accent piece or to create a focal point.
Our Contemporary Cable Collection kicks wood furniture up a notch by embellishing the pieces with sleek, metallic cables giving the collection a distinct art deco influence.

What is Art Deco Design?

Art Deco, also known Style Moderne, represented elegance, luxury, and wealth in its prime. Here are some of the defining characteristics of Art Deco design:

Geometric: Utilizes basic shapes, clean lines, and representational forms to create ornate patterns
Metallic: Shiny metallic accents are often usedespecially gold and silver colored metals
Repetitious: Unvaried repetition of elements and symmetry
Polished: Sleek, glossy finishes
Curvy: Furniture later in the era embraced S curves, C curves, and the waterfall style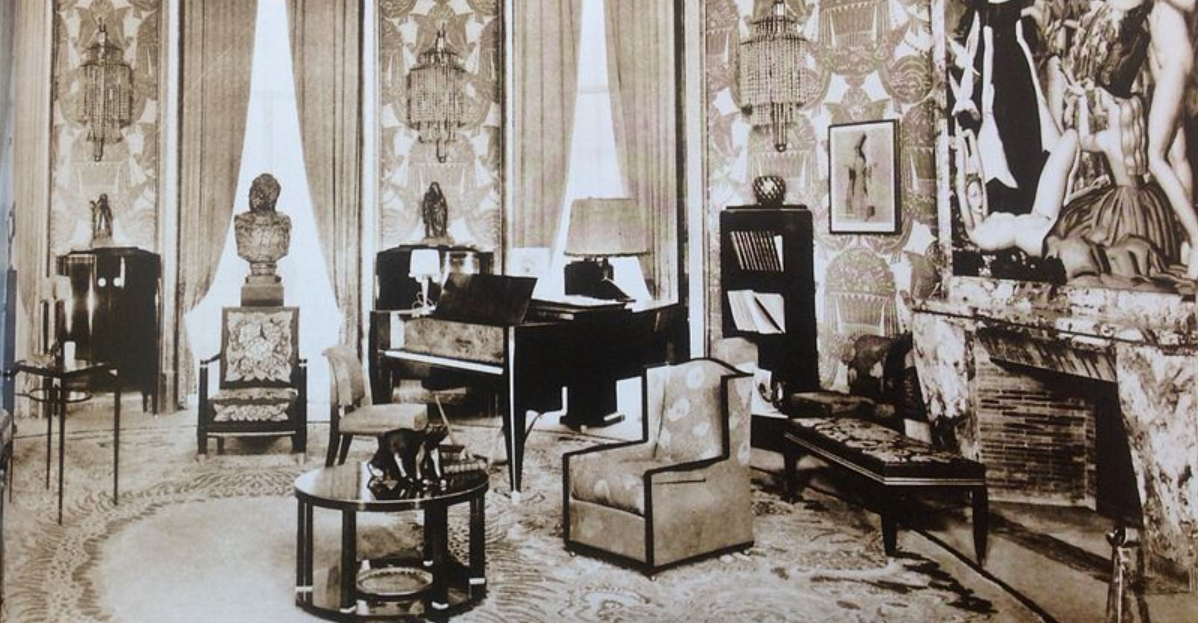 The History of Art Deco
Art Deco furniture originated in France in the early 1920s as a response to the threat that French manufacturers felt with the growing popularity of Germany clean and simple styles, particularly Biedermeier.
Art Deco, or Style Moderne, got its name from the Exposition Internationale des Arts Décoratifs et Industriels Modernes in Paris in 1925. This was the first time that the Art Deco style was exhibited and many designers that helped define the style attendedPaul Follot, the duo Sue & Mare, and Emile-Jacques Ruhlmann.
Eventually this modern style would later give way to Mid-Century Modern.
Art Deco vs. Mid-Century Modern
Because art deco design philosophies had such a significant impact on the furniture designs of the mid 20th century, it is commonly asked what the difference is between the two styles.
Art deco and mid century modern both utilize machine-cut shapes and rounded designs, they both incorporate a breadth of different materials, and theyre both known as being timeless in their appearance.
Art deco tends to incorporate more flash- gold and silver metals, intricate carvings, and elaborate stitching and upholstery. On the other hand, mid century modern furniture introduced more solid colors, glass, plastic, marble, and other materials, and more simple designs.
Indeed, influences from each are often seen unified together in one interior.
Shop Art Deco Furniture Collections
With contemporary styling churning out more minimalistic interiors, it is rare to come across someone who opts entirely for the ornate styling of Art Deco furniture and accessories these days.
However, Art Deco pieces do have elements that have once again found the spotlightgeometric shapes, luxe metallics, and clean linesso it isnt uncommon to see bits of Art Deco influence sprinkled through contemporary design. After all, they are an easy way to add intrigue to a space while keeping the design looking sleek and elegant.
We've spotlighted some of our Art Deco inspired furniture collections below:
Art Deco Furniture Collections
Other Design Philosophies